Hi ladies! Good morning, after noon, night(depending on where you are). I am in kentucky its a very rainy day. Which has made me feel kind of blah.... So, what do I resort to? Frankening. I had my heart set on making a jelly glitter bomb franken ever since I could remember but never made it.... I don't know why because I have like 15 frankens that I've made since then. Ha ha. So, I was bored listening to the rain..and decided to put this rainy day to use. And I give you," Against my window" (taken from the missy elliot song).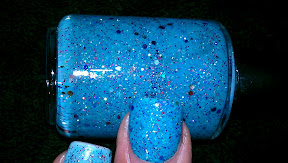 She's made up of 9 different polishes, 6 of those are straight glitter which of going to be a straight PITA to take off. Ha ha.
I used:
Sally girl mini- 812029
Hot topic - holographic glitter
Ulta- Piñata-yada-yada
Nyc - Starry silver glitter
Sally Hansen Xtreme wear- Rockstar pink
Wet'n'Wild- Party of 5 glitters
Orly- Love each other
Essie- Turquoise and caicos
Sally Hansen Xtreme wear- Blue me away
What do you think of it?
I love it. I wish it was either a lighter blue or a royal blue but, I'm going to leave it alone for now.
Spanish word of the day:
Lluvia - Rain
Pronounced you-vi-ah
Have an awesome day. :)
posted from Bloggeroid